On Wednesday December 2nd 2020, the Hospitality and Tourism Study Program held a Community Service with the theme " HIT THE STAGE: A CULTURAL AND DANCE WORKSHOP " to the community and association of the Australia Indonesia Youth Association for members who are mostly in Australia and some also in Indonesia.
This service was delivered by a team from Bunda Mulia University consisting of Ms. Supina S.ST., Par., M.M., Mr. Antonius Rizki Krisnadi S.ST.Par., M.M. Par. and Mr. Vishnuvardhana S. Soeprapto B.A., M.A. all of are Lecturers in the study program Hospitality and Tourism. The additional team consists of four alumni of the Hospitality and Tourism study program. This community service was presented online via Zoom.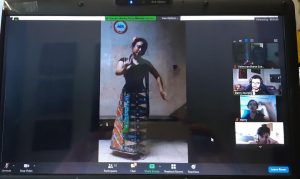 The beginning of the community service began with a welcome speech from Mr. Antonius Rizki Krisnadi as the Deputy Head of the Hospitality and Tourism Study Program, where it is hoped that this kind of service will be held again with a different theme and also hopes that the relationship between Bunda Mulia University and the Australia Indonesia Youth Association (AIYA) will continue with even better and more fruitful for the future. After his remarks, Mr. Vishnuvardhana S. Soeprapto gave a presentation on the Indonesian traditions and customs where were given some typical traditions and customs found in Indonesia. After giving the material, the AIYA committee created four 'breakout rooms' where all of the participants were allocated in each room where there was also one dancer who would present the dance and then teach the participants how to perform the dance. After being given 30 minutes, the participants then moved to another breakout room and watched a new dance and were taught the dance again. This system applied until all participants have experienced and been allocated in all of the four breakout rooms and have seen and being taught the four types of dances. The dances which were presented are as follow:
Sirih Kuning dance from Betawi performed by Cindy Eka Lestari (Cindy)
Gabor Peliatan dance from Bali by Elisabet Delivia Nosagita (Livia)
Gantar Dance from East Kalimantan by Regita Pratikawati (Rere)
Hornbill Dance from West Kalimantan by Anggelia Meryciana (Angel)
The closing of the AIYA was given by Ms. Samantha and Mr. Matthew, who then closed the UBM party by Pak Rizki again.
The AIYA party was very happy with this dedication and felt that all the participants liked the event and the AIYA party also said many thanks to all the people who participated in the event