Warning
: mysqli_query(): (HY000/1): Can't create/write to file '/var/tmp/#sql_55e_2.MAI' (Errcode: 28 "No space left on device") in
/var/www/html/www.ubm.ac.id/wp-includes/wp-db.php
on line
2030
Galat basis data WordPress: [Can't create/write to file '/var/tmp/#sql_55e_2.MAI' (Errcode: 28 "No space left on device")]
SELECT t.*, tt.* FROM lamicadb_terms AS t INNER JOIN lamicadb_term_taxonomy AS tt ON t.term_id = tt.term_id INNER JOIN lamicadb_term_relationships AS tr ON tr.term_taxonomy_id = tt.term_taxonomy_id WHERE tt.taxonomy IN ('language', 'post_translations') AND tr.object_id IN (3449) ORDER BY t.name ASC
National Data Science Challenge 2020
Januari 14, 2020
Warning
: mysqli_query(): (HY000/1): Can't create/write to file '/var/tmp/#sql_55e_2.MAI' (Errcode: 28 "No space left on device") in
/var/www/html/www.ubm.ac.id/wp-includes/wp-db.php
on line
2030
Galat basis data WordPress: [Can't create/write to file '/var/tmp/#sql_55e_2.MAI' (Errcode: 28 "No space left on device")]
SELECT t.*, tt.* FROM lamicadb_terms AS t INNER JOIN lamicadb_term_taxonomy AS tt ON t.term_id = tt.term_id INNER JOIN lamicadb_term_relationships AS tr ON tr.term_taxonomy_id = tt.term_taxonomy_id WHERE tt.taxonomy IN ('post_format') AND tr.object_id IN (3454) ORDER BY t.name ASC
Warning
: mysqli_query(): (HY000/1): Can't create/write to file '/var/tmp/#sql_55e_2.MAI' (Errcode: 28 "No space left on device") in
/var/www/html/www.ubm.ac.id/wp-includes/wp-db.php
on line
2030
Galat basis data WordPress: [Can't create/write to file '/var/tmp/#sql_55e_2.MAI' (Errcode: 28 "No space left on device")]
SELECT t.*, tt.* FROM lamicadb_terms AS t INNER JOIN lamicadb_term_taxonomy AS tt ON t.term_id = tt.term_id INNER JOIN lamicadb_term_relationships AS tr ON tr.term_taxonomy_id = tt.term_taxonomy_id WHERE tt.taxonomy IN ('language', 'post_translations') AND tr.object_id IN (3454) ORDER BY t.name ASC

Kunjungan Industri Shopee 2020
Januari 16, 2020
Sesuai dengan tagline Bridging Education to The Real World, Universitas Bunda Mulia  sebagai universitas swasta berprestasi sangat peduli terhadap calon lulusan yang akan terjun ke dunia industri. Untuk itu, Universitas Bunda Mulia & Akademi Pariwisata Bunda Mulia melalui Alumni & Career Center Department memberikan pembekalan bagi para calon wisudawan tentang dunia industri 4.0, khususnya mengenai keahlian dan pengetahuan apa saja yang diperlukan untuk menghadapi industri 4.0 ini. Kegiatan pembekalan calon wisudawan yang mengangkat tema "Increase Your Skills & Digital Technology Knowledge in Facing 4.0 Industry" ini diadakan pada 6 Januari 2020 di The UBM Grand Auditorium Kampus Ancol.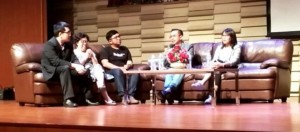 Kegiatan ini dikemas dalam bentuk talkshow dan menghadirkan beberapa narasumber yang pastinya sangat kompeten dibidangnya, yaitu Bpk. Dudi Arisandi, selaku Chief People Officer Tiket.com, Ibu Lani Rahayu, selaku Associate Vice President Social Media and Community Blibli.com, serta Ibu Kandi Sofia S. Dahlan, MBA, Ph.D., selaku Wakil Rektor Bidang Akademik Universitas Bunda Mulia. Peserta talkshow ini yaitu 989 orang calon wisudawan ini dimoderatori oleh Bpk. Halim Agung, S.Kom., M.Kom., selaku Ketua Program Studi Bisnis Digital Universitas Bunda Mulia. Diharapkan dengan adanya acara pembekalan calon wisudawan ini dapat menambah pengetahuan setiap calon wisudawan agar siap terjun ke industri 4.0 saat ini.
Universitas Bunda Mulia, Bridging Education to the Real World.